3 people pulled alive from rubble 8 days after Nepal earthquake
Comments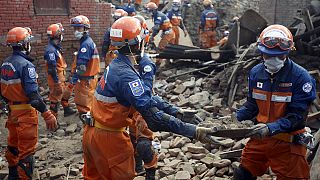 Three people have been pulled out alive from the rubble of their home eight days after Nepal's devastating earthquake.
The current death toll of more than 7,000 is likely to rise as entire villages have been destroyed and officials believe many more people have yet to be recovered.
"Nobody has come here, nobody has helped us," said Laksmi Shrestha who lives in the remote village of Pauwatho. "We are all doing it ourselves. We are eating whatever little we have."
"Unless somebody comes with some relief or some help, we will die of hunger," said Indra Bahadur Bharati, who is from the same village. "What else can we say?"
A wooden sign cobbled together from the debris of flattened homes begs for the help that has yet to come. Its message: "WE NEEDHELP. PLEASEHELP."
Some aid is trickling though, but the United Nations says vital relief supplies are being held up in customs. The government has closed the airport to large planes, it says because of damage to the runway.
Officials are increasingly worried about the spread of disease. One hundred thousand square metres of quake-hit areas have been sterilised by the China International Search and Rescue Team (CISAR).
"As the temperature rises and the bodies of victims and animals begin to decay, there is a high risk of a large-scale epidemic outbreak," explained Liu Haifeng, CISAR's Chief Medical Officer.
On Sunday morning, rescuers recovered about 50 bodies from a popular trekking route in Langtang which was hit by an avalanche.
At least 200 other people including villagers and trekkers are still missing.