Nepal quake: hopes fade of finding more survivors one week on
Comments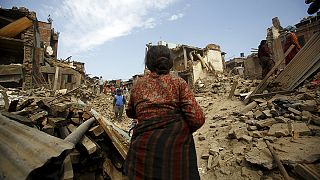 One week on after Nepal's devastating earthquake, hopes of finding any more survivors in the rubble are fading.
Up to a thousand EU citizens are among scores of people still missing.
There is also a lingering fear of further aftershocks.
"They (people) are so scared. People are not staying inside their houses," said one man.
The death toll has topped more than 6,200. That is likely to rise further, as bodies continue to be pulled from the debris of ruined buildings.
Amid a stench of rotting bodies, there are fears about public health. With morgues overwhelmed, the dead are being immediately cremated to limit disease.
Kathmandu felt the full force of nature's wicked hand, but other remote areas outside the capital have also been badly affected.
Some villages are yet to receive any help, all of these days on. People are resorting to clearing rubble with their bare hands.
But, amid the misery, there are moments of joy. A baby girl has been born to a young Nepalese couple in one of Kathmandu's field hospitals.
The child – who has not yet been named – represents a new life in a country that has lost so many.