Britain's new princess in her new palace for a couple of days
Comments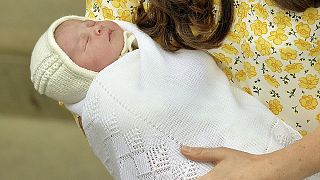 Britain's Duke and Duchess of Cambridge presented their new daughter to a delighted crowd of royal fans in London.
The three posed for photos on the steps of St Mary's Hospital.
"…I saw them come outside, and they were holding the baby and they just looked so beautiful and happy," said Canadian tourist Denise Steller. "It was really stunning. I will never forget it."
The new princess, who was fast asleep in her mother's arms, has yet to be named, but bookies say the current favourites are Charlotte, Alice, Victoria and Elizabeth.
There are slightly longer odds for Diana, Eleanor and Alexandra.
The royal trio left the hospital 12 hours after Kate arrived.
William was born at the same hospital to the late Princess Diana in 1982.
He and Kate met as students in Scotland. Their first child, George, was born in July 2013.
They will spend a couple of days at Kensington Palace in central London before heading to their country mansion on the queen's Sandringham estate in the east of England.
The baby princess will be fourth in lone to the throne behind her brother George, father William and grandfather Prince Charles, pushing her uncle Prince Harry down a notch in the royal hierarchy.
In honor of the Duke and Duchess's newest addition to their family, here is a picture of mine #WelcomeToTheFamilypic.twitter.com/Xl4hf8cBgq

— Emma Rubin (@RubinSandwich_) May 2, 2015