Up to 1,000 Europeans among thousands still missing in Nepal
Comments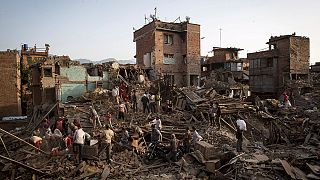 Up to a thousand EU citizens are among several thousand people still missing in Nepal.
Most of the missing Europeans are thought to have been around popular trekking routes in the Himalayas, where others have been airlifted out of the area.
The head of the EU delegation in Nepal, Rensje Teerink, said those unaccounted for are said to be hard to trace as they don't register with embassies, and it's thought some could have left the country.
"EU nationals non-accounted for – there are 1,000 – but that of course doesn't mean that they're dead, just that they haven't reported back, so 1,000 unaccounted EU nationals but we don't know what is happening to them, whether some of them may be dead, some of them may just not have reported, but that is the latest figure," Terrink said.
Meanwhile efforts have been continuing in Bhaktapur and elsewhere to comb the ruins of wrecked buildings.
In Kathmandu until now the search teams have been looking for survivors of last Saturday's earthquake, but soon the dogs, pickaxes and other equipment will give way to bulldozers charged with clearing the debris.
With bodies still being pulled out of the rubble, and infrastructure and basic amenities destroyed, the health of survivors is becoming a major concern.
Rescuers have been ordered to incinerate bodies immediately.
At the Pashupatinath temple east of Kathmandu, the dead have been brought by truck and unloaded onto funeral pyres.
On Friday the number known to have died reached 6,250, with more than 14,000 injured. The authorities fear the actual death toll could reach 10,000.
Those living in Kathmandu's outdoor camps since the quake have been receiving aid donated from around the world.
Outside the capital relief and rescue teams are said to have reached most areas but many more urgently need help.