Aid reaches remote Nepal villages
Comments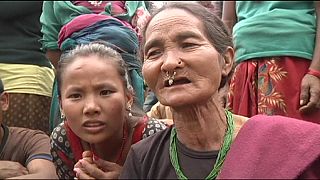 Five days after the disaster struck, aid is trickling into remote villages near the epicentre of the earthquake which struck Nepal.
For fear of aftershocks, locals in the mountain village of Katteldada wait outside their homes.
One local teacher voiced his anger at what he saw as the government's lack of support saying that many other foreign countries are providing help but "due to corruption we cannot get any help", he said.
Entire villages clinging to remote Himalayan mountainsides in Gorkha district have been reduced to rubble making access to these areas impossible in places.
Sukhmaya Tamang trekked 20km and waited two days for help to arrive at Balua village.
"Getting anything is difficult, (getting) food is difficult, water is difficult, oil, salt is difficult food items. My house is destroyed," she said. "I have nothing."
International aid agencies estimate 1.4 million people are in urgent need immediate food assistance.
One villager asked whether he had any food answered that he had nothing.
Bad weather is also hampering relief efforts with landslides making trekking paths lethal. Heavy rains and low clouds are forcing helicopters carrying aid to be grounded, making the already difficult task of getting aid to those in need even tougher.