Mind the gap: economic recovery hides precarity of life in Britain
Comments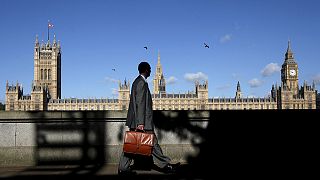 Way back in the 1950s, Conservative Prime Minister Harold Macmillan said most Britons had "never had it so good", painting a rosy picture of the economy. His party swept to victory at the next election.
Twenty years later, as widespread strikes paralysed everyday life during the so-called "Winter of Discontent", Prime Minister James Callaghan's attempts to reassure people backfired. "Crisis? What crisis?" cried one tabloid headline – and the Labour government was doomed.
Today, the impression of how well people are doing is as crucial as ever.
Although the British economy now sees some light at the end of the proverbial tunnel, many Britons have not yet felt it brighten their lives.
Higher house prices and university tuition fees and living costs have made existence precarious for people living in the UK on middle and lower incomes.
Not only the economy and austerity are blamed, there's a feeling that the very politics behind them have made many in Britain downwardly mobile.
Our correspondent Joanna Gill said: "Taking a look at the UK's economic health, it appears to be recovering well from the crisis, but scratch the surface and a different picture emerges, of a squeezed middle class and a concentration of wealth at the top, leaving many households struggling to get by."
Recent figures reveal more and more people are turning to food banks to feed their families — even in the apparently affluent town of Bicester. The Trussell Trust runs more than 400 such food banks across the UK and the number of people using them topped one million in the last year, a 19% annual increase.
Paul, a job seeker in Bicester, said: "It's terrible the amount of people having to use food banks, and it's not just people like myself who have fallen on more hard times, it's people who have got jobs…We're human beings, and this is all from the goodwill of people rather than our government who are taxing and not increasing people's wages."
Britain's gap between rich and poor is increasingly linked to age. With rising tuition fees and living costs, reports warn the young will be worse off than their parents.
London School of Economics graduate student Dan Kidby, 25, is sitting on almost £30,000 [around 41,000 euros] worth of undergraduate debt. He moved back in with his parents after graduating to save for his master's degree. Now working in the costly capital, he expects to be paying off the debt his whole life.
Kidby said: "I'm not looking for a big wage, so someone who's looking to earn £25-30,000 a year [around 41,000 euros], I mean, that debt is not going to go. I'm going to be tied to that debt until it gets written off, most likely. It's just an extra tax isn't it? It's just less money that I'm going to have. It's really annoying and irritating, and in my opinion unfair. But I'm stuck with it."
Kidby believes education is a right and shouldn't fall foul of priorities to monetise learning.
It's not just the cost of student life that's rising, but also of raising a family. In Reading, a 25-minute train ride from London, working mother Georgina Dean considers herself lucky to be able to continue work, even if it means that keeping her two young daughters in child care eats a huge chunk of her salary.
Dean said: "We're currently paying £1,800-1,900 [around 2,600 euros] a month, which works out at £22,000 [around 30,000 euros] a year!"
Though the Dean family's current income is stable, there are always worries about the future.
Dean confided: "You never know what's on the cards for work. You never know when that's in danger for either of us. So you always have to keep a contingency plan."
Lower living standards, rising costs and dependence on the employer have created instability for middle and lower income earners. David Boyle, author of 'Broke: Who Killed the Middle Classes?', considers this a catastrophe, and says Britain risks a polarisation of politics unless it has a middle class revolution.
In Boyle's view: "When the middle class gets frustrated, you get a perverted kind of politics which emerges — very cross, very intolerant — and you have to be very careful of that. You can see the rise of the right across Europe, and the left actually. If you don't have a strong central tier to your political world you get these extremes of right and left, and they're very intolerant extremes."
Boyle warns that losing the middle class between lower wage earners and the rich would mean losing the ladder that has enabled generations to improve their lives.
Many voters are looking for a change in direction to lift their fortunes.
Follow election night live from 10pm on May 7 on euronews.com