Baghdad car bombs kill 21 after EU chief warns of worsening crisis
Comments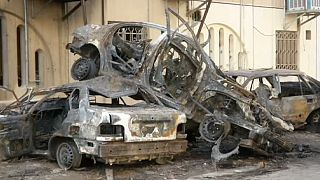 At least 21 people were killed in the Iraqi capital after a wave of car bombs exploded on Thursday evening (April 30).
The Baghdad blasts happened just hours after the head of the European Union's humanitarian aid department, Jean-Louis de Brouwer, warned that the situation in Iraq was deteriorating rapidly.
On Friday morning local residents pointed out the damage.
"You can see all that's left are cars that have been burned out or damaged," said Hussein Ali. "What crime have we committed? We're not even safe in our own homes!"
After a car bomb struck Baghdad, this man sat down and played his cello http://t.co/7QdCDJzcObpic.twitter.com/AZWhCn1o9E

— i100 (@thei100) May 1, 2015
Meanwhile sores of families displaced by fighting in Iraq's Anbar province have taken refuge at a camp in western Baghdad.
Iraqi officials have described Anbar's capital Ramadi as a ghost town, with deserted streets and abandoned shops.
According to the UN, more than ninety thousand people have fled an advance around Ramadi by the group calling itself "Islamic State" (ISIL).