Germany says it will block Russian 'Night Wolves' riders
Comments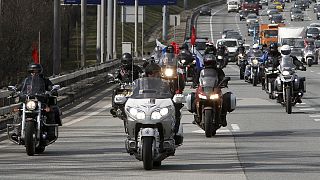 Germany says it will block some members of a Russian ultra-nationalist motorcycle club from entering the country.
The "Night Wolves" set off from Moscow on Saturday on a "Victory Ride," which they said was to mark the 70th anniversary of victory by Soviet forces over Nazi Germany.
Those taking part were heading for Berlin.
News of the planned ride has drawn criticism from countries along the route, particularly Poland, whose prime minister has said the trip is a provocation. Warsaw has announced an entry ban for the group.
The "Night Wolves" were blacklisted by the US for their participation in Russia's annexation of Crimea last year. Its members also back Russian separatists in eastern Ukraine.