Following in his father's footsteps: Mick Schumacher shines in debut F4 race
Comments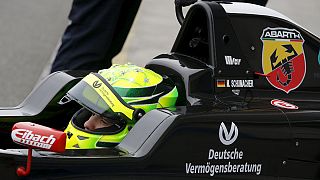 Mick Schumacher is following in his father's footsteps. The 16 year old was named champion of the rookies after his first German Formula Four race in Oschersleben.
It was the first time the son of seven-time F1 World Champion Michael Schumacher competed under his father's surname. He came out with a bang, finishing in ninth place.
The teenager may be a single-seater rookie, but he's an old hand in the kart races, taking second place in the German, European and World junior kart championships last year.
Cool-headed, too, it would seem. The media hype surrounding his first race didn't seem to have an affect on him, despite reports of up to 180 journalists being accredited to cover his debut race.
Schumacher displayed quick reactions and was prepared to overtake. He worked his way up from 19th on the grid, to ninth.
His future looks very bright indeed.