Remembering Gallipoli: Britain's Prince Charles lays wreaths at memorial
Comments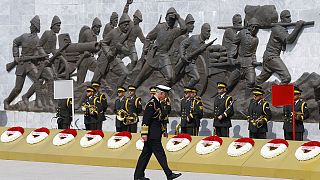 World leaders have gathered at the World War I battle sites of the Gallipoli campaign to mark 100 years since the British-led invasion.
Representatives of countries that faced off in one of the most iconic events of the war honoured the dead in a joint ceremony on Friday, on the eve of the centenary since troops landed on the beaches.
Turkish President Recep Tayyip Erdogan and Britain's Prince Charles laid wreaths at a memorial for fallen Turkish soldiers at Gallipoli, before listening to a recitation from the Muslim holy book as well as prayers for peace.
During his speech at the Turkish memorial, Prince Charles said that "intolerance combined with the willingness to use the most barbaric violence remain a persistent and prevailing source of division and conflict."
He added that "we all have a shared duty.. to find ways to overcome that intolerance to fight against hatred and prejudice in pursuit of greater harmony."
The main events are scheduled for Saturday, the anniversary of the dawn landings by troops – mostly from Australia and New Zealand.