Gallipoli peninsula tourists help keep battle memories alive
Comments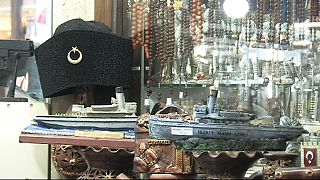 Every day, tourists visit Seddulbahir, the site of the battle, in their hundreds. It is almost like a pilgrimage to gain an understanding about what happened one hundred years ago.
A tourist industry built around the 1915 war.
The street names reflect the battle actors and places.
Souvenirs of mini ships and cannons keep the battle memories alive.
"Those who visit here buy small things to remember the spirit of this place," said a market seller.
Tourists bring home little mementos from their visit to one of Turkey's most sacred sites, where there are many monuments honouring Turkish soldiers who died here.
"Our guide talked about these things. That's why I am interested in it, a tourist told euronews. "This is about our soldiers who carried the wounded enemy soldier."
The site is significant, not only for Turks, but for Australian and New Zealanders too.
The western coast of the Gallipoli peninsula was a major landing for ANZAC forces in 1915.
Euronews correspondent Bora Bayraktar reported: "Although it has been 100 years the city lives the war everyday. Tourists, activities and memorials like this one, keep the memories alive."