Memories of compassion among bloodshed in shrine to Gallipoli's past
Comments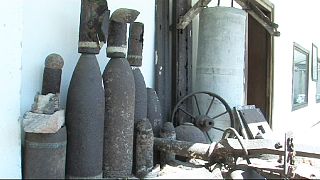 A 1915 Franco-British naval attack on the Gallipoli peninsula was to become one of Istanbul's fiercest battles in World War I and is now heralded as the Ottoman Empire's greatest victory during the conflict.
Then known as Constantinople, the city and its surroundings were littered with shells and various kinds of ammunition and weaponry. People would sell them to junk dealers to make a small amount of money.
But local man Salim Mutlu attempted to salvage the artifacts and began to display them in his house in the village of Alçıtepe. He turned it into a museum, which his children now run.
"My father was the village grocer," said Mutlu's son-in-law, Özcan Adanir. "The villagers who found war materials in the field, like swords, bayonets and guns, brought them to Salim Mutlu and exhanged them in return for eggs, cheese, flour, milk, cigarettes, tea, biscuits and Turkish Delight. He wanted to prevent these goods from going into the hands of junk dealers, so he turned his house into a museum."
The exhibition in Salim Mutlu's little white house serves as a reminder of the bloody battles that took place during that period.
But there are also indications of the compassion that continued to exist between opposing forces, in spite of the war, as one visitor explained:
"The thing that most effected me is the exchange of water between the ANZACS and the Turks. I am impressed that signs of humanity remained, despite the gunfire."
Turning yellow with age, letters, newspaper clippings and photographs can also be seen.
The museum attracts visitors from around Turkey, but also people from the UK, Australia and New Zealand.
Our correspondent Bora Bayraktar sent this report:
"The diligence of a grocer from a tiny village saved a huge amount of war memorabilia from disappearing into the hands of junk dealers. Today, the Salim Mutlu Private Museum serves and presents war materials to thousands of people each year."