EU leaders meet to address migrant crisis
Comments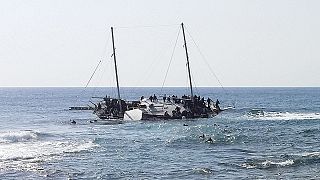 After hundreds died in the Mediterranean and at least 10,000 more were rescued this past week alone, the EU holds an emergency summit in Brussels on Thursday to address the crisis.
The tragedies have sparked huge public outrage and the EU is under pressure to act fast.
Leaders are expected to agree to double the EU's search and rescue effort at sea. But there are calls for Europe to do more and get to the root of the crisis in Africa.
"We need to improve our sea rescue, but we need to discuss the distribution of refugees in Europe, we need to fight people-smuggling networks and we need to do something to help stabilise our southern neighbouring states, especially Libya," German Foreign Minister Frank-Walter Steinmeier said on Wednesday.
In a passionate speech to parliament, Italian Prime Minister Matteo Renzi called for Europe to change tack and be more than just an "economic club".
"We want Europe to be different from a club of technical specialists who know a lot about geopolitics but don't react in moments of pain," Renzi said.
The EU does patrol its borders and the Mediterranean, but human rights groups say that's too far from the zone where most boats leaving from North Africa get into trouble.
Many blame the current crisis on a decision last year to shut down an Italian search and rescue mission named Mare Nostrum that operated in the area south of the island of Lampedusa.
Several EU countries argued at the time that the mission was too costly and encouraged migrants to attempt the journey.
After nearly 2,000 migrants died during the crossing so far this year, many now say that decision was a bad one.