Iraqis forced out of Ramadi by ISIL as exodus continues
Comments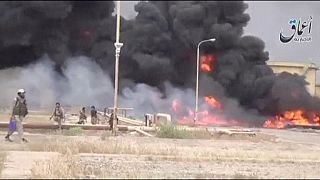 Thousands of Iraqis have been continuing to flee the city of Ramadi to escape the extremists from the so-called Islamic State.
Local officials have warned the city is about to fall after the militants captured several surrounding villages.
Late last week many were settling in Baghdad suburbs, awaiting tents and food.
ISIL forces have been closing in on the capital of Anbar province – and setting about imposing their idea of the law.
''They forced us to leave our homes. We are peaceful people. We were forced to leave our city," said one woman.
In a setback for the militants, officials said Iraqi forces retook from ISIL most of Baiji refinery – the country's largest – which had been attacked by the insurgents a week ago.
Clashes are said to have continued on Saturday, with ISIL militants fighting elite army divisions and paramilitaries.