Hundreds feared drowned in Mediterranean; Italy calls for help
Comments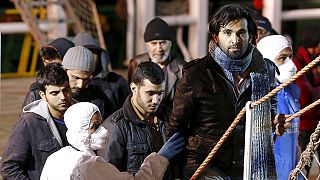 It is thought to be the worst ever tragedy involving the transportation of migrants to Europe.
Hundreds are feared to have drowned after a fishing trawler smuggling migrants capsized in the Mediterranean.
At least 24 people have been confirmed dead with more than 600 still missing. Initial reports suggest 28 have survived.
The actual number of people on board is unclear, although eyewitness reports suggest it was anywhere between 700 and 950.
Around 40 to 50 children and some 200 women are estimated to have been trapped behind closed doors on the vessel, unable to escape.
The ship went down about 100 kilometres off the coast of Libya and around 200 kilometres south of the Italian island of Lampedusa.
Italy's Prime Minister Matteo Renzi is leading calls to the European Union for greater action on the issue. He said:
"Our priority, which is a Political priority with a capital 'P', is human dignity, as well as national security, to stop the trafficking of human beings. These new slave drivers cannot think that Europe considers this a second rate problem compared to other questions on our agendas."
At the request of Rome and Madrid, Donald Tusk, President of the European Council, is planning a summit on illegal immigration.
As the rescue effort continues in the Mediterranean, aid organisations are piling on the pressure for better search-and-rescue systems to be installed.
They are also urging international and political action to tackle the overwhelming numbers of migrants from Africa and the Middle East trying to reach the shores of Europe.