Ex-IMF chief Rodrigo Rato's bank accounts frozen in Spain
Comments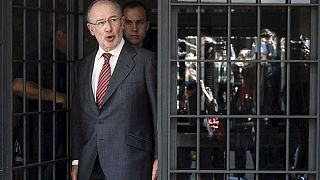 After the insults, after hours of questioning, more humiliation for Spain's Rodrigo Rato.
The former economy minister's bank accounts have all been frozen as part of a money laundering investigation.
Customs agents already searched the home and office of the former conservative deputy prime minister on Thursday.
The probe comes in an election year in which corruption has become a major theme, embarrassing the ruling conservative party.
"The institutions work well and they have to work regardless of time and place, regardless of whether there are elections coming up. And regardless of political affiliation," said Deputy Prime Minister Soraya Saenz de Santamaria.
Rato is separately suspected of fraud and misuse of funds while he was chairman of Bankia, which was bailed out by the government in 2012.
He has denied any wrongdoing.
Rato was once of the most prominent political figures in Spain and a former head of the International Monetary Fund.