UK opposition leaders meet for debate
Comments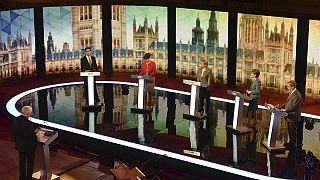 Nigel Farage, who heads British opposition party UKIP, is celebrating a donation of over one million euros from media tycoon Richard Desmond.
The support of Desmond's Express and Sunday Express newspapers could also boost the party in its bid to retain the two parliamentary seats it already holds and add more in the upcoming May 7 general election.
Farage joined the leaders of four other opposition parties for a televised debate on Thursday evening.
A snap poll immediately following the event put Labour leader Ed Miliband ahead of his rivals with 35% of viewers judging him the winner and 31% giving it to Scottish Nationalist Party leader Nicola Sturgeon. With Prime Minister David Cameron absent from the contest, however, it's unclear what that will mean come election day.
Sturgeon used the forum to offer her support to a Labour government, if Miliband fails to secure an outright victory, but Miliband said he wasn't willing to make a deal with her party.