ISIL militants launch counter offensive in Iraq after recent losses
Comments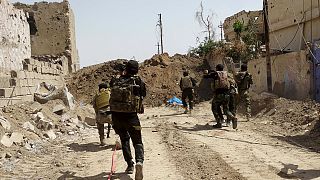 Islamist militants known as ISIL claim to have taken control of part of Iraq's largest refinery in the northern city of Baiji.
A propaganda video has been released on social media purporting to show ISIL fighters inside the security perimeter of the complex.
Iraqi forces have counter claimed that fighting is continuing and that they still have control of most of the area.
Salahuddin Security Committee denies Baiji fall to ISILhttp://t.co/sBbswPecFZ#Iraqpic.twitter.com/qdue52xd71

— Press TV (@PressTV) April 15, 2015
Baiji was under siege for five months last year until Iraqi forces fought back. This second militant onslaught comes as ISIL fighters are making ground elsewhere in Anbar province.
Hundreds of families are reported to have fled the village of Albu Ghanim which lies five kilometres northeast of the provincial capital Ramadi.
ISIL's gains come only days after a spokesperson for the US-led coalition air campaign insisted that the group had lost more than a quarter of its territory due to air strikes backed up by Iraqi ground forces .