Iran's Zarif tells euronews 'foreign interference in Yemen must stop'
Comments
By
Sarah Taylor
with
Reihaneh Mazaheri, Mohammad Javad Zarif, Reuters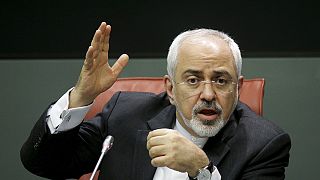 Iran's foreign minister, Mohammad Javad Zarif, has told euronews the conflict in Yemen must be resolved internally.
"We should have an inter-Yemeni dialogue, intra-Yemeni dialogue, dialogue among Yemenis," he said.
In an exclusive interview with Reihaneh Mazaheri, Zarif discouraged foreign involvement in the ongoing battle between Saudi-backed forces loyal to Yemen's President Hadi and Shia Houthi rebels widely believed to have the backing of Iran.
Iran has consistently denied involvement in the conflict. However,growing suspicion of Tehran's involvement has led to the conflict being termed a 'proxy war' between Iran and Saudi Arabia.
Reihaneh asked Zarif about Iran's role in the Yemeni clashes.
"Others should not participate in the dialogue," Zarif responded. "This is not a negotiation between the Yemenis and foreigners, nor is it a negotiation between foreign powers. Foreign powers should not set conditions for the future of Yemen, nor should they engage in negotiations. What they need to do is facilitate the dialogue among various Yemeni groups. And that is what we are prepared to do."
Jamal Benomar resigns
His words come amid news the UN's special envoy to Yemen has stepped down.
Jamal Benomar, who officially held the post from 2012, had come under fire for failing to broker an end to the conflict in the country.
@Jamal_Benomar stepping down as Special Adviser on #Yemen, #UNSG expresses great appreciation for tireless efforts. http://t.co/PCRlDzrE6d

— UN Spokesperson (@UN_Spokesperson) April 16, 2015
Saudi Arabia and other Gulf states are believed to have piled pressure on the Moroccan diplomat to resign.
The United Nations has not yet named a successor.
'No' to ground troops
Houthi militants took control of the Yemeni capital Sana'a in September, placing the president under house arrest. He later escaped south to Aden – the second city – before taking refuge in Riyadh, Saudi Arabia, with Yemen's Vice President Khaled Bahah.
Saudi-led airstrikes against the militants have hit the region's poorest country hard.
On Thursday (April 16), Vice President Bahah said he hoped the coalition would not send in ground troops, and appealed to the armed forces to support the "legitimate" Yemeni government in exile.
According to the UN, more than 70 people have been killed in mounting violence since March 26, 2015. However, officials claim the figure may be much higher.
In Yemen, millions face food insecurity amid escalating conflict, @FAOnews warns http://t.co/WJcIIAAPa5pic.twitter.com/qnl3FAN3jM

— United Nations (@UN) April 15, 2015