6,000 migrants plucked to safety from Mediterranean in last 5 days
Comments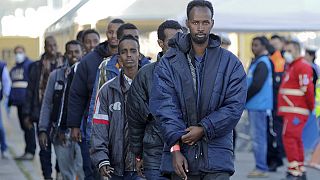 Nearly 6,000 migrants have been rescued from the Mediterranean Sea over the past five days, including a newborn baby. On Wednesday (April 15) 400 other people were feared drowned as they tried to make the perilous crossing between Libya and Italy in rickety and fragile vessels.
The International Organisation for Migration says more than five hundred migrants have died trying to reach Italy since the start of 2015. That's nearly ten times last year's figures for the same period.
Nearly 8,000 people being rescued in Italian waters since the beginning of April #Italy#migrantshttps://t.co/XnGiSExf9u

—

IOM

(@IOM_news) April 14, 2015
Many Italians are concerned about the latest arrivals.
"We are calling on the Italian government to help us with these migrant arrivals, not because we are racist but because we don't have the facilities or means to help these people," said one woman from the Italian coastal town of Corigiliano Calabro.
"I am sorry for these poor people because they come from countries that are at war but I think our town cannot welcome them," said a local man. "I am a Corigliano resident and I've been out of work for over two years. I will be forced to leave soon."
On Tuesday as more migrants were plucked to safety from the Mediterranean, more than 1,000 authors sent out a letter to the president of the European Parliament saying that "people who need protection on arrival at the borders of the EU are being treated as enemies."
Watch the PEN delegation meeting with EP_President</a> and calling for greater protection of refugees in Europe <a href="http://t.co/bTKOFUTvTE">http://t.co/bTKOFUTvTE</a></p>&mdash; PEN International (pen_int) April 15, 2015