Another tragic day off the Italian coast: 400 migrants die, witnesses report
Comments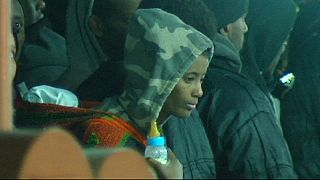 Tuesday (April 14) marked another tragic day off the coast of Italy. Migrants arriving in the port of Reggio Calabria, at Italy's southern tip, told the charity Save the Children that some 400 people died when their boat capsized en route from Libya.
#FortressEurope: 400 migrants die in shipwreck off Libya, survivors say http://t.co/41AMbfoHJP#RefugeeStrugglepic.twitter.com/WTXHl34kJv

— th anonymous (@ori_no_co) April 14, 2015
The same morning, Palermo in neighbouring Sicily, received around 1,200 migrants.
Refugee boat capsized 80 miles off Lampedusa. 144 survivors, 9 dead, scores presumed missing. Arriving in Sicily soon on rescue boat.

— Melissa Fleming (@melissarfleming) April 13, 2015
Europe's Mediterranean ports have seen an influx of migrants arriving from north Africa since cutbacks in autumn 2014 saw Italy's Mare Nostrum rescue operation phased out in favour of a less-costly, EU-backed border control force.
Italian centre-left MP Cécile Kashetu Kyenge is working with Malta on a new, integrated immigration strategy.
"We thought stopping Mare Nostrum and beginning the new Triton operation would decrease the number of deaths, whereas this figure has increased," she told euronews.
"It's a central issue for European policies, which is why today we want to share our work with the Commissioner, with the European Council to come out of this political emergency and put structures in place."
Between 2013 and its end in October 2014, Mare Nostrum rescued 156,362 people in 439 separate operations, the Italian navy reports.
The EU-imposed Dublin Regulation determines where migrants should make a claim for asylum. The Member State responsible is usually the first state through which the asylum seeker entered the EU.
In 2014, 170,000 migrants entered Italy by sea. The figure looks set to increase this year, leading the UN to urge Europe to help Italy cope with the numbers.
Nearly 8,000 people being rescued in Italian waters since the beginning of April #Italy#migrantshttps://t.co/XnGiSExf9u

— IOM (@IOM_news) April 14, 2015
In the first quarter of 2015, 480 people died attempting to cross the water to Italy, compared to 50 in the same period the year before, the International Organisation for Migration announced on Friday.
EU officials are expected to announce an overhaul of the body's policies in May 2015.