Migrants from Africa wish desperately to be allowed to live in Europe
Comments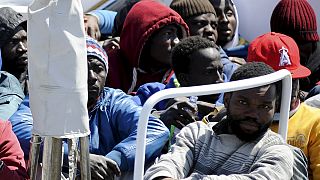 Finally they have something to smile about: the children among the 500 migrants who landed at the Sicilian port of Empedocle last Sunday, after a long and dangerous voyage. Many of the Eritreans and Somalis are minors. NGO Save the Children said 450 arrived at the weekend, 317 unaccompanied by an adult.
They came through Libya, passing by places such as Misrata. They all share the same determination: to cross the Mediterranean, and leave their countries permanently behind them.
A woman waiting to continue her journey said: "If you send us back they will put us in jail. Then they will send us to fight in the wars. I do not want to go back to my country. I want to go to Europe."
The death tolls keep climbing. In the first three months of this year, 480 migrants drowned, compared to 50 in the same period last year.
A Coast Guard vessel from Iceland has been on patrol off Italy, as part of the European mission Triton. Ewa Moncure, an official with the EU border management agency Frontex said she is aware of accusations that not enough is being done to save migrants in distress. She was out at sea, helping.
The spokesperson said: "We participate in a lot of search and rescue operations which take place very far from the Italian shore, usually about 40 nautical miles north of Libya."
The European Triton mission follows the Italian government's Mare Nostrum mission, discontinued last October because it was too costly to sustain. It cost more, did more, and saved many lives.
Mare Nostrum cost 9.3 million euros per month. Triton has a budget less than one third of that, 2.9 million euros per month.
Italy is in constant difficulty coping with asylum seekers. More than 10,500 people have arrived so far this month (April 1-15).
A Somali migrant said they do not have a choice but to attempt the crossing.
He said only two ways were open to him: government soldier or Islamist.
"I don't want to die early."