400 people feared dead in Mediterranean Sea tragedy
Comments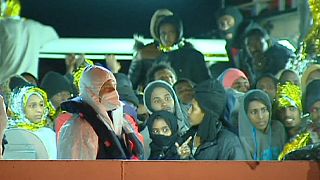 Around 400 people are feared dead in the latest tragedy in the Mediterranean.
The migrants were attempting to make the journey between troubled Libya and Italy, according to survivors. The crossing has become popular with human traffickers who charge up to 1,000 euros for the trip.
It has been reported that one of the traffickers threw a migrant's corpse overboard to deter sharks that were following their boat.
Police arrested several men on Tuesday evening suspected of being the drivers of the migrant vessel.
Thousands of migrants escaping war or famine make the perilous journey from north Africa to Europe, but large numbers perish.
The International Organisation for Migration says more than 500 migrants have died trying to cross the Mediterranean since the start of 2015, over ten times last year's figures for the same period.
Nearly 6,000 migrants have been rescued within the past four days with more boats expected on Wednesday.
In #Libya I've seen those dinghies that migrants take across the Med:two plastic inflatable sides,flimsy wooden paneled bottom, that's it.

— Bel Trew – بل ترو (@Beltrew) April 15, 2015