Libya: ISIL supporters claim responsibility for embassy attacks in capital
Comments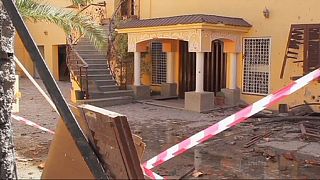 Supporters of an ISIL affiliate have claimed responsibility for two attacks in the Libyan capital Tripoli.
A car bomb exploded outside the Moroccan embassy on Sunday, causing significant damage. No casualties were reported.
It came just hours after gunmen opened fire at the South Korean embassy nearby, killing two security guards.
Militant groups operate freely in Libya, which is torn between a militia-backed government in Tripoli and an internationally recognised government in the east.
Activists and representatives of Libya's political parties met in Algiers for a second round of talks on Monday, with the aim of paving the way for a transition government.
The discussions were chaired by Algeria and organised under the leadership of the United Nations Support Mission in Libya (UNSMIL).