Death sentences for Muslim Brotherhood leader Mohamed Badie and others upheld in Egypt
Comments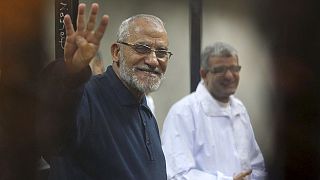 A judge in Egypt has confirmed death sentences on the Muslim Brotherhood's top leader Mohamed Badie and 13 other senior members of the outlawed organisation.
The sentences were imposed last month after a court had found them guilty of inciting chaos and violence amid protests following the removal from power of the Islamist former President Mohamed Mursi in July 2013.
The sentences have now been approved by the Grand Mufti after being referred to Egypt's highest Islamic official as required by law.
The court also sentenced US-Egyptian citizen Mohamed Soltan to life in jail for supporting the Brotherhood and "transmitting false news".
"I confirm the sentence of execution for the crimes of which they are accused and oblige them to pay the trial fees. The session is adjourned," said presiding judge Mohamed Nagy Shehata, confirming the sentences in the defendants' absence.
An appeal is still possible before Egypt's highest civilian court.
Badie, 71, and the others were accused of plotting attacks against the state after the Muslim Brotherhood was toppled by the army.
Since then, the authorities' crackdown on Brotherhood supporters has seen hundreds killed and thousands jailed.
The government accused the Brotherhood of fomenting an Islamist insurgency since Mursi's removal. Hundreds of Egyptians, mostly soldiers and police officers, have been killed in militant attacks.
The Brotherhood says it is committed to peaceful activism and had nothing to do with recent Islamist militant violence in the country.
Badie has already been sentenced to multiple life terms. He was one of hundreds handed down the death sentence in a mass trial last year that drew international criticism of Egypt's judicial system.
President Abdel Fattah al-Sisi, who as army chief toppled Mursi, describes the Brotherhood as a major security threat.