India to strengthen its fleet with 36 French-made warplanes
Comments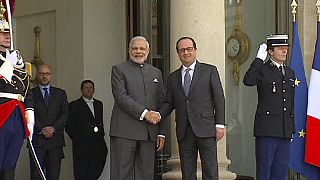 Indian Prime Minister Narendra Modi says he has ordered 36 French-made Rafale fighter jets.
The move, an effort to modernise his country's ageing warplane fleet, is another boost for French manufacturer Dassault Aviation and could be worth about 4 billion euros.
Indian military officials have warned that their air force risks a major capability gap opening up with China and Pakistan without new western warplanes or if local defence contractors cannot produce what the military needs in a timely manner.
"I have asked President (Francois Hollande) to supply 36 ready-to-fly Rafale jets to India," Modi said at a news conference on the first day of a state visit to France.
It follows Dassault's long-awaited first export deal with Egypt in February.