Sharp work from Italy and Germany at the Junior World Fencing Championships
Comments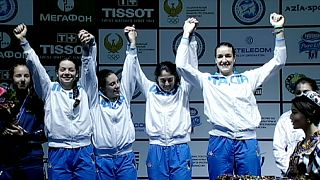 At the Junior World Fencing Championships in Tashkent ,Italy's Sabre team had much to celebrate in a tension packed final against Russia.
At 39-39 the final was too close to call until Sofia Ciaraglia took to the piste to clinch the title for Italy.
Italy 45-41 Russia.
In the Foil once again it was Italy that reaped the rewards in the contest with the US.
The match went to 36-36 and with it extra time until Erica Cipressa gained the final hit and Italian victory.
In the men's Epée final Germany
dominated the match, creating a nine point margin with Lukas Bellmann finishing off the French.
Germany beating France 36-45.