Fencing: Juniors Queroli and Rosatelli strike gold in Tashkent
Comments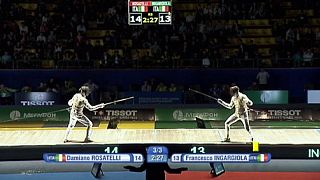 There was no rest for the youngsters on Easter Monday at the Junior Fencing world championships in Tashkent, Uzbekistan.
It was an all-French affair in the female sabre final.
Manon Brunet and Caroline Queroli crossed swords for the gold medal.
In a tight tussle in the Uzbek capital 16-year-old Queroli eventually prevailed 15-14.
Top ranked Sage Palmedo of the US and Russia's Anna Bashta took bronze.
Over on the male draw it turned out to be an Italian one-two in the under 20 foil discipline.
Damiano Rosatelli got the better of compatriot Francesco Ingargiola to strike gold.
In another tense finale Rosatelli, who is ranked world number three in the age category, beat his compatriot – ranked one place above 15-13.
Tuesday's individual programme sees the female epee discipline and the male sabre category.