Iraq: Revenge attacks reported in ISIL-free Tikrit
Comments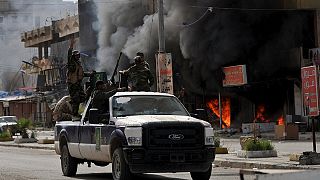 War-shattered Tikrit is now free from months of rule by ISIL extremists.
But the liberators of Saddam Hussein's hometown are said to be taking revenge, with reports of violence and looting by Iraqi forces and their Shi'ite militia allies in this, a majority Sunni city.
The United States, pursuing airstrikes on ISIL in Iraq and Syria, says it is keeping a close eye on events in Tikrit.
For the giant aircraft carrier, the "USS Carl Vinson"http://www.navy.mil/local/cvn70/, the priority remains dispatching fighter jets from the Persian Gulf to destroy militant targets.
Still in command of Iraq's second-largest city Mosul, ISIL continues its destruction of the country's heritage, ruining several ancient sites including Hatra.
A purported new video from the group shows carvings being reduced to ruins in the city, about 110 kilometres south of Mosul.
Some 2,000 years old and listed as a UN world heritage site, Hatra was reportedly destroyed in March.
Iraq's antiquities ministry has said the lack of a tough international response to earlier ISIL attacks on historic sites has encouraged the group to continue its campaign.