Iraqi soldiers and Shi'ite militia celebrate victory in Tikrit
Comments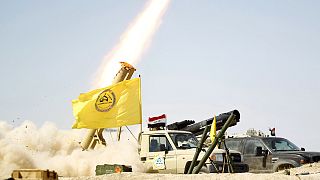 Iraqi soldiers and Shi'ite Muslim militia celebrate their advance into the centre of Tikrit, where ISIL fighters appear to be on the run.
The Sunni Muslim militant group, which calls itself Islamic State, has been in control of Tikrit since June last year.
But the Iraqi interior minister says most of the city is now under the control of government forces.
Fighting continues in some districts, with Shi'ite paramilitary fighters helping Iraqi soldiers.
This is very much a symbolic victory for authorities in Baghdad, who have been struggling to deal with ISIL's seizure of large parts of Sunni territories.
The Shi'ite militia groups helping the government soldiers are backed by Iran, adding another complexity to Iraq's complicated political landscape.
US-led airstrikes are also being used to destroy ISIL positions.