Iraq: US-Iran tensions amid offensive to retake Tikrit from ISIL
Comments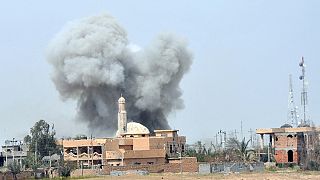 The battle to retake the Iraqi city of Tikrit from ISIL militants was never going to be easy….but with the US and Iran on the same side, tensions are escalating within the offensive.
State media in Iran says that two of the country's elite Revolutionary Guards acting as advisers on the ground have been killed by a US drone strike near Tikrit – an allegation denied by the Pentagon.
Shi'ite milita supported by Iran have been helping Iraqi government forces try to recapture Saddam Hussein's hometown ahead of an eventual bid to retake Mosul from ISIL fighters.
The US and Iran insist there is no military coordination between them. Washington says a pullback by Iranian-backed Shi'ite militia was a precondition for the US-led airstrikes on Tikrit to begin.
Visiting Baghdad, UN Secretary General Ban Ki-moon has been
highlighting the plight of the more than 2.5 million Iraqis displaced by the conflict.
Ban also said he was concerned about alleged abuses by Iraqi pro-government forces.