Luna Rossa pull out of America's Cup over row about size of catamarans
Comments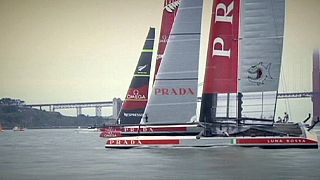 A row over the size of the yachts challenging for the America's Cup has intensified. Italian challenger Luna Rossa, backed by luxury goods group Prada has pulled out of the 35th edition of the competition.
The Italians are angered and claim the decision to reduce the size of the catamarans was taken without a unanimous agreement from the teams hoping to take the cup from holders Oracle Team USA in Bermuda in 2017.
It's believed that team New Zealand could follow the Italians lead.
A majority of the six teams currently entered in the race voted to switch from 62-foot catamarans to 45-footers to cut costs.
The move was backed by Sir Ben Ainslie's BAR team. He said it would make sustaining the event much more realistic.