Brazil on the road to recovery as England and Slovakia maintain winning streak
Comments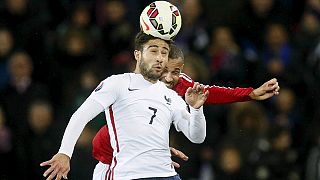 Welcome to "The Corner", our weekly program dedicated to the world of football.
This week, after the European Cup battles and El Clásico, club football drifted into the background and international matches took over.
Some teams, like France and Brazil, fine-tuned their engines in friendly ties, but most other European national teams competed in another round of qualifying for Euro 2016.
Nine months on from their World Cup humiliation in Belo Horizonte, Brazil continued their road to recovery.
Neymar led a confident Seleção to victory over France in an unusually intense friendly in Paris.
Oscar, Neymar and Luiz Gustavo answered Raphael Varane's opening goal to see out a 3-1 victory over France who showed there's still work to be done before hosting next year's Euro 2016.
Three days later Brazil beat Chile 1-0 for their eighth straight victory while France recovered to beat Denmark.
Elsewhere Reigning European champions Spain enjoyed a narrow 1-0 victory over Ukraine in their Group C qualifier for the European championships.
Alvaro Morata scored his first international goal as La Roja are second in the table trailing Slovakia by three points.
The Netherlands continue to stumble in their bid to reach the Euro 2016 finals.
Wesley Sneijder scored in injury-time to rescue a one all draw at home with Turkey.
Guus Hiddink's Dutch side remain third six points behind Group A leaders Czech Republic and five adrift of second placed Iceland.
Up&Down
Who are the winners and losers from last week's footballing action – lets find out in our weekly segment Up & Down.
On the up are Slovakia and England.
The two national teams are the only ones in European qualification that have a perfect five wins from their opening five games.
They reached the halfway stage with maximum points thanks to respective wins over Luxembourg and Lithuania.
Also up is Harry Kane.
The Tottenham star made an ideal start to his England senior career when, on his debut, he scored just 79 seconds after coming on as a second half sub against Lithuania.
The 21-year old needed just three touches of the ball before heading home his maiden England goal.
Best night of my life by far! So proud to have made my debut and to score is just something else! Had dreams of that moment for many years!

— Harry Kane (@hkane28) March 27, 2015
On the down list this week are Montenegro's fans who marred their country's euro qualifier with Russia who had keeper Igor Akinfeev stretchered off after being hit in the head with a flare one minute in:
More violent episodes in the second half prompted the ref to abandon the game.
On this day
It's been dubbed the 'Marathon Match' and it took place on this day back in 1946.
The Division Three North Cup replay between Stockport County and Doncaster Rovers lasted 3 hours and 23 minutes, setting a world record in the process.
The match was deadlocked at 2–2 at 90 minutes, and after two 10-minute periods of extra time there was no further score.
The rule at that time was that the game would carry on until one team scored.
The match went on for so long that several spectators went home for tea, then returned to find the match still going.
Though Stockport thought they had the winner when Les Crocker put the ball in the goal in the 173rd minute, but the referee called a foul and disallowed the goal.
Reportedly, even a few Doncaster players were upset at the call, which meant they had to play on.
However, after 203 minutes, and with darkness closing in, the game was finally stopped.
The replay, at Doncaster, was won by Rovers 4–0.
We might be wrong
There are some high-profile match-ups in the European domestic leagues this coming weekend.
We've had a stab at predicting these selected fixtures.
Do not forget to send in your own predictions on the social networks Facebook and Twitter by using #TheCornerScores.
Arsenal – Liverpool 2-2
Borussia Dortmund – Bayern Munich 2-3
Roma – Napoli 1-1
Marseille – PSG 2-1
Bloopers
Football is not just persistent struggles, hard-won victories and painful defeats. It also about admiration of your opponent's skills and about the passion and love for the game. We end the show with a video that highlights all of this. (see clip above)
Send us your own links to interesting and funny football videos using #TheCornerBloopers.