Turkish heartbreak on Day Two of Samsun Judo Grand Prix
Comments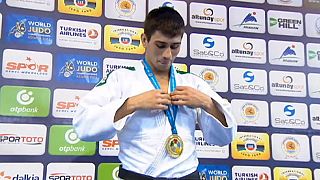 The Samsun Judo Grand Prix continues in Turkey, where 169 competitors were in action on Saturday.
Rustam Orujov broke the home crowds' hearts when he defeated local fighter Hasan Vanlioglu in the under-73-kilo category, but then won them again when he raised his defeated opponent's arm alongside his when taking the win.
In the under-81-kilos category, the final one of the day, France's 2013 world champion Loïc Pietri was the top seed, one of 58 competitors for the top weight, and despite looking slow and tired in his early bouts, he saw off the challenge of Sergiu Toma to take the title.
In the women's under-63-kilo class the final was an all-European affair between the top seed Anicka Van Emden from the Netherlands and Austria's Hilde Drexler.
Van Emden was always the more aggressive in their bout and she took the gold back home with her.
Finally in the women's under-70-kilos class Colombia's double world champion Yuri Alvear came unstuck against Linda Bolder, who now fights for Israel.
Bolder lived up to her name, finessing the Colombian's attacks with some counters of her own that left the other woman on her back, and the Israeli with the gold.