Germanwings crash dominates conversation in Seyne les Alpes
Comments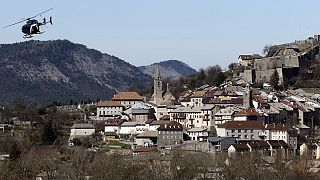 The Germanwings crash will long be remembered in Seyne les Alpes, which is close to where the plane went down.
It is a disaster that is dominating conversation in the remote alpine area, amid claims that one of the pilots seemed intent on destroying the Airbus A320 jet.
"If it's the case, the person would have been ill. Because if someone really wants to kill himself, he should do it alone. Taking other people with him, I think he may not have been well," said one woman in Seyne les Alpes.
Another added: "He should have done it all alone. He was not obliged to take other people with him. It's horrible. We were not on that plane, so we don't know exactly what happened. Maybe this man was ill. Who can say?"
Meanwhile, away from the speculation, investigators are continuing their official probe into the exact circumstances surrounding the crash, which killed 150 people.