Yemen's Houthi rebels advance towards Aden
Comments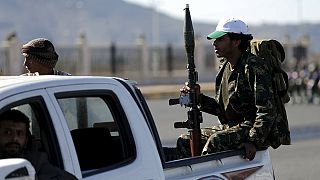 Gunfire in the Yemeni city of Aden caused panic on the streets after Houthi rebel forces and their allies seized the nearby airport and air base on Wednesday.
The Shi'ite Houthi appear to be tightening their grip on the outskirts of Yemen's second city.
Troops loyal to President Abd-Rabbu Mansour Hadi are said to be mounting a defence of Aden's centre – if it falls it will mark the collapse of what is left of Hadi's grip on power.
The president has been holed up in Aden since fleeing the Houthi- controlled capital Sanaa last month.
The White House now reports he is no longer at the compound he's been using as a base and has moved to a safer location but his whereabouts can not be confirmed.
Over the past year the rebels have fought their way out of their northern strongholds and worked their way south.
The Houthi advance into Sunni Muslim areas has raised fears that regional rivals Iran and Saudi Arabia could be drawn into the Yemeni conflict.
The UN has recently warned that Yemen is on the brink of civil war.
President Hadi is backed by military and police loyalists, and by militia known as Popular Resistance Committees.
The Houthi rebels are supported by elements in the security forces, President Hadi's predecessor Ali Abdullah Saleh as well as Iran.
Houthi Rebels Take Over US Airbase In Yemen, Celebrate Obama's Success!http://t.co/luB4YgbmSL#Tcot#PJNETpic.twitter.com/X1RQXl2xs6

— Leah (@LeahR77) March 25, 2015