Villages in the French Alps prepare to welcome families of air crash victims
Comments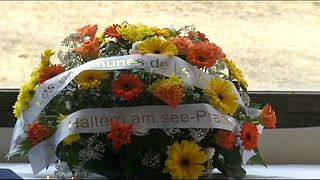 Officials in the French Alps are making preparations to welcome relatives of the victims of the Germanwings plane crash.
Some families have already arrived in villages near the site of the tragedy, and numerous more are expected for tribute ceremonies.
Mayor of the village of Le Vernet, François Balique, told reporters: "We're at their disposal."
"All the residents are prepared to host the families if need be and if they decide to stay in the village since accommodation options around here are limited," he said.
"Therefore if necessary we will welcome them, we've put everything in place."
Support workers have also arrived from Germany and Spain, to back up local volunteers who have been providing help for such things as interpreting.
Jordi Sanchez, the Director of Social Services for Barcelona, said: "The organisation of the measures by French authorities has been very well handled.
"There are translators. But for the emotional communication with victims, it is better to speak the same language."
French, German and Spanish flags tied with black ribbons have been installed in a field where relatives and officials are expected to hold a memorial ceremony.