New president 'new chapter' : Obama and Afghan leader Ashraf Ghani seek to repair toxic relations
Comments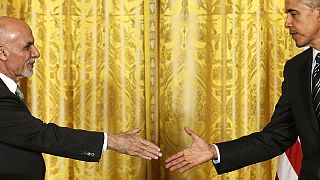 A new spirit of cooperation appears to have have replaced toxic relations between Washington and Kabul as President Obama agreed to delay a planned withdrawal of US troops from Afghanistan and maintain a force of nearly 10,000 throughout until 2015.
"It's important to remember the time line for a withdrawal down to a embassy centered presence, a normalization of our presence in Afghanistan remains then end of 2016. And that hasn't change," said Obama.
Revised Plan
The original proposal had been to halve the number of US forces by the end of 2015 but improved relations with Afghan leaders has contributed to a revision of the plan.
A US official has also said US military bases in Kandahar and Jalalabad were likely to remain open beyond the end of 2015.
The US will now leave a small force at the US embassy in Kabul by the end of 2016.
President Ashraf Ghani wants the troops to remain for a while to support current efforts to rebuild his own country's forces.
"I am pleased to say that the departure of 120,000 international troops has not brought about the security gap or the collapse that was often anticipated," said the Afghan president playing down attacks on the capital by Taliban fighters.
The Afghan leader is keen to restore good relations with Washington which had deteriorated under his predecessor Hamid Karzai.
Diplomatically thanking the US for the sacrifices made during its Afghan campaign, Ghani is due to address Congress on Wednesday and the UN on Thursday.