US pledges support for Afghan forces during troop pullout
Comments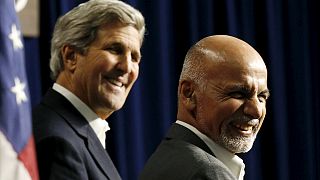 The United States has vowed to keep funding Afghan security forces to provide stability as foreign troops withdraw from the country.
With Afghan President Ashraf Ghani enjoying a smoother relationship with Washington than his predecessor, he's begun a five-day trip to the US.
He's hoping for a slower military pullout, and welcomed the US Secretary of State's show of support for his struggling unity government.
"I'm also pleased today to announce a new initiative for a plan to create a new development partnership, aligned with the unity government's reform agenda. The partnership will promote Afghan self-reliance by using up to 800 million in US aid to incentivise and measure Afghan-led reform," said Secretary of State John Kerry.
High level diplomatic and defense talks are also to resume after a three year gap – much to President Ghani's apparent appreciation.
"This is a foundational relationship. And we are very proud that this relationship will be transformed into an enduring relationship."
The Afghan leader will meet President Barack Obama today and deliver speeches to Congress on Wednesday and the UN the following day.
Our correspondent Stefan Grobe who was at Camp David where President Ghani began his state visit said:
"Gone are the days when Washington grew exasperated with former Afghan president Karzai. More than once, Karzai had criticized the US publicly and challenged the Obama administration's good will. The unity government of Ashraf Ghani now seems to offer a new promise for a more effective partnership with America."