France plane crash: Spain observes three days of mourning
Comments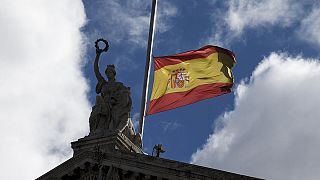 The Spanish government has declared three days of mourning after the plane crash in southern France on Tuesday.
The 150 people on board are presumed dead.
Spain's deputy prime minister, Soraya Saenz de Santamaria, has said that 45 of the passengers on the plane have Spanish names.
The Airbus A320, operated by Germanwings, took off from Barcelona, bound for Dusseldorf.
The aircraft crashed in a remote, mountainous area in the Digne region.
The Spanish Upper House of parliament fell silent soon after the news broke.
Another moment of silence is being held in all Spanish public institutions on Wednesday.
Relatives of those believed to have been on the flight gathered at Barcelona airport, where a crisis centre has been set up there to help them cope with their distress.
Some of the family members were making their way to France to get close to the remote Alpine area where the plane went down.
On Wednesday morning, investigators in France resumed the search through the wreckage for clues as to why the crash occured.
It is expected to take weeks to identify the bodies of the victims.