German town grieves for lost pupils after French Alps plane crash
Comments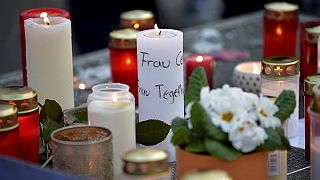 Haltern am See in northwest Germany is a town in mourning. Locals held a vigil on Tuesday evening, hours after news came through of the plane crash in southern France which killed all 150 people on board. Candles were lit for the sixteen school children and their two teachers who are among those who died on an alpine mountainside.
Most residents attending kept silent in their grief. Volunteer councilors, psycologists and priests were on hand to help if and when needed.
Volunteer Thomas Jarck explained:
'"People are of course wondering: how can something like this can happen? It's not something we are able to imagine. We hear things like this every day, things happen here and there, and now it's the people in this town here who are hit, and they don't know what to do, and they feel that life will never be the same again."
The loss of so many youngsters has deeply effected both fellow pupils at the Joseph -Koenig school and the wider community.
Reporting for euronews Olaf Bruns summed up the atmosphere:
"The whole town is in shock, people are struggling to find words and nobody really wants to speak in front of the camera. It will take a long time for them to cope with this disaster."
The tragedy appears to have touched people across Europe. Personalities from the world of pop music have been among those who have offered their condolences:
Our deepest prayers are for those who grieve now especially for all those kids at Joseph-König-Gymnasium #Germanwingspic.twitter.com/nEMpk6aGdc

— Harry Styles ❤️ (@callmelau_) March 24, 2015