Yemen minister calls for military assistance from Gulf Arab states
Comments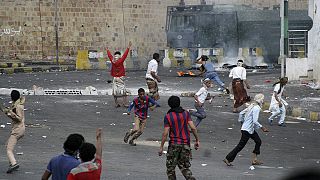 Yemen's Foreign Minister has called for military assistance from Gulf Arab states to stop the advance of Shia Houthi fighters into the south of the country.
Riyadh Yassen told reporters: "We have requested this (military intervention) for the sake of speed because time is not in anyone's favour, especially not in the favour of those behind constitutional legitimacy."
The Houthis took control of Yemen's capital, Sanaa, in September. They seized Taiz, the country's third largest city, at the weekend.
The Yemeni President, Abd-Rabbu Mansour Hadi, ousted by the Houthis, has established a power centre in the southern port city of Aden.
The advance of the Houthis – who share a Shi'te Muslim ideology with Iran – has alarmed the Gulf states.
Saudi Arabia's government has said that it will take "necessary measures to protect the region from aggression."
The United Nations has warned that Yemen is on the brink of civil war.