Tunisian security chiefs sacked after Bardo Museum attack
Comments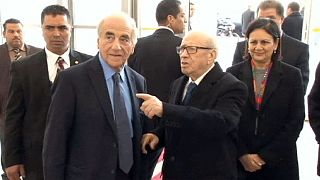 Tunisia's Prime Minister Habib Essid has sacked six police chiefs following last week's attack on the national museum in which 20 tourists died.
His office said those who have lost their jobs include the head of tourist security, an intelligence and local police chiefs, a traffic police commander and the Bardo's head of security.
Visiting the museum on Sunday, President Beji Caid Essebsi had warned that those responsible for security lapses would be punished.
Declaring that his country was at war with the extremists, the president said a third attacker involved in the operation was on the run.
The Interior Ministry has released two photos of a suspect, named as Maher Bin Mawloudi al Qayidi.
Reports suggest he co-ordinated the attack.
A security camera video was also published at the weekend, showing two gunmen at the museum on Wednesday, equipped with assault rifles as they roamed the building.
They were later killed by police.
The authorities have arrested more than 20 people since the attack and believe 10 were directly involved.
Some are said to have returned from fighting for Islamist militant groups in Syria, Iraq and Libya.
The self-proclaimed Islamic State group has claimed that its supporters carried out the attack, although a local movement affiliated to al-Qaeda has also published details and comments on the assault.