'Nazi hideout' discovered deep in Argentine jungle
Comments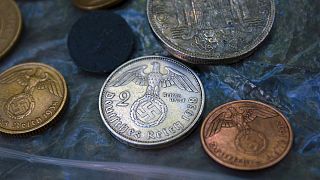 Deep in Argentina's northern jungle, archaeologists have come across the unexpected….!
In among the lush vegetation – the ruins of a house-like structure, isolated and abandoned, but only five minutes from the Paraguayan border – it may have at one time been a Nazi safe haven.
Researchers from the University of Buenos Aires
have found items dating back to Germany in the 1940s.
Project leader Daniel Schavelzon explains:
" It's a a site which can be defended, a protected site, an inaccessible site, where you can live peacefully in hiding. We believe we have found a refuge for the Nazi hierarchy."
The items found on the site all point to a bygone era: ammunition, porcelain and coins all made in Germany.
A sign suggesting Hitler's private secretary Martin Bormann used to live here has been dismissed as he died in Berlin, but researchers do believe the house was a prepared hideout which was never needed.
Most of the Nazis including Adolf Eichmann, a leading Holocaust architect, and Josef Mengele, the doctor of the Auschwitz death camp nicknamed the " Angel of Death", who were harboured by Argentina, were allowed to live openly in various Argentine cities after the war.
More Secrets May Lurk at Suspected Nazi Hideout in Argentina: An Argentine archaeologist who discovered what h… http://t.co/N5b8zyAwth

— Umanand Amin (@umanandamin) March 23, 2015