Pope Francis has meal with prisoners during Naples visit
Comments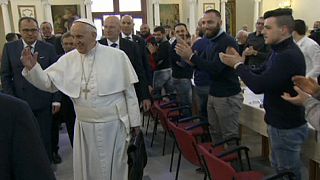 Pope Francis has been visiting inmates at a jail near Naples, during a one-day trip to the area.
He shared a meal with around 120 male and female prisoners. Transsexuals and AIDS sufferers were among them.
Earlier, Pope Francis urged organised crime members to turn away from violence, after visiting one of the most troubled neighbourhoods of Naples.
He urged them to convert to "love and justice," saying it was possible to return to a life of honesty.