France regional elections: exit polls put Sarkozy's UMP in lead
Comments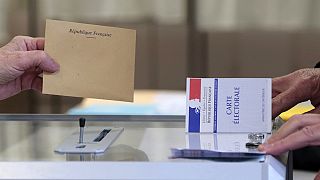 Exit polls following the first round of regional elections in France suggest President Nicolas Sarkozy's UMP Party will come out in the lead.
The conservative party and its partners look set to receive 36 percent of the vote, with President François Hollande's Socialist Party in second place on 28.5 percent.
Speaking about the projections, Socialist Prime Minister Manuel Valls said more people than expected had voted.
Marine Le Pen's anti-immigration, anti-euro, extreme right Front National Party lags behind in the exit polls, on 24.5 percent.
If confirmed, the results will prove to be a setback for Le Pen, who was hoping to come out on top in the first round.
She is setting her sights on winning the 2017 presidential elections in France.
Initial figures suggest the rate of abstention was 48.5 percent.