Thousands protest in Dublin over controversial water charges
Comments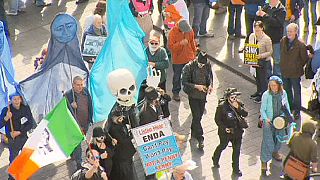 Tens of thousands of protesters have marched through Dublin as anger boils over new water charges.
Households in the Republic of Ireland are set to be billed as part of the final phase of a seven-year, 30 billion euro austerity drive.
The introduction of domestic water charges has become the most controversial of all the belt-tightening measures.
Protesters against the move say families are being pushed over the edge.
Saturday's demonstration was organised by Right2Water, which represents community groups, political parties and unions.