SportAccord pushes into Russia with new Moscow office
Comments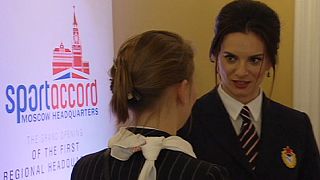 SportAccord has opened its first regional headquarters, in Moscow, with a host of past and current sporting stars on hand for the launch.
The new office opens in time for the upcoming SportAccord Convention World Sport and Business Summit in Sochi from April 19-24 this year, where delegates from the international sports federations and the global sports industry will be gathered in one place for a period of five days.
It is also where the company boss is expected to announce he is at war with the International Olympic Federation over the future of world sport.
"Everything that I propose is just a solution to how to generate more money for the sport, more exposure, more credibility and attraction for some sports and to challenge young people and new generations to practise sport.
Everybody believes that the Olympic Games and the Olympic movement is one of the most significant value but does that mean that at the same time it has to be like a religion of sport because nobody can have or use a monopoly on sport. Sport is a unity of all sports organisations and a family," said Marius Vizer.
The progress of this relatively new Swiss-based organisation is being closely followed as Vizer is serious, well-funded, and appears capable of exploiting anger at how international sports administrators are seen by some as corrupt and unaccountable.