Your votes for the world's greatest sportspeople: official SportAccord awards
Comments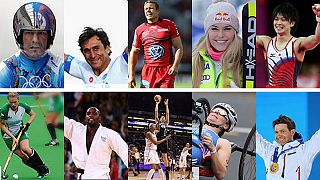 Sport fans, we need your voice.
Vote in the Euronews/SportAccord awards
Thrilling, inspiring, heart-breaking, amazing, sports can be all that, sometimes all at once. And those emotions are only possible thanks to the sportsmen and sportwomen who dedicate their lives to excellence.
Whether you like rugby or basketball, skiing or judo, volleyball, handball or hockey this is your chance to support your heroes.. Euronews, in partnership with SportAccord, have organised the first edition of the SportAccord Awards. They are aimed at recognising and honouring outstanding achievements in the sporting world.
Uniting 100 sporting federations, SportAccord has sought nominations from its members to produce the definitive shortlists of the world's top sports men, women and venues.
You have the opportunity to vote in five categories:
- Sportsman of the Year For example, handball fans can back Thierry Omeyer, judo fans can show their support for Avtandil Tchrikishvili, and many others!
- Sportswoman of the Year Fans of gymnastics? Fans of skiing? Tells us which star athletes should win.
- Sports Hero, dedicated to the most inspiring athletes. They are all heroes, but which one deserves it more?
- Sports City of the Year Should Sochi be crowned? Or should it be Rio de Janeiro? Or maybe another sport city?
- Best Sports Advertisement of the Year Which ads represented best the values dear to sports? #LikeAGirl, or Zlatan's "805 Million Names"? They are others. Let us know which one was best.
Be sure to make your voice heard and vote in each of the category.