Brazilian prosecutors push for tougher measures against corruption
Comments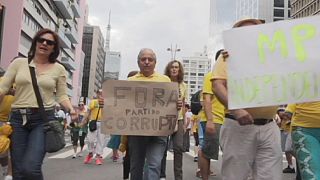 Brazilian prosecutors are calling for tougher prison sentences and more legal powers to crackdown on corruption.
They are hoping to ride a wave of national disgust over the latest scandal at state-run oil company Petrobas.
The top federal prosecutor's office, known as PGR, has sent Congress proposals to stiffen penalties for corruption to up to 25 years in prison.
Prosecutors are seeking legal reforms to speed up the arrest of corruption suspects and seizure of their assets before they can be hidden.
A multibillion-dollar kickback scheme uncovered at Petroleo Brasileiro SA has shaken President Dilma Rousseff's government and threatens to further slow a stagnant economy.
The investigation, dubbed "Operation Car Wash," has led to the indictment of scores of executives from Brazil's top builders.
It has implicated 47 politicians who allegedly received graft money, all but one of them from Rousseff's governing coalition.